Open weave
gheri cotton
pullon
black/white
Please choose your colour
You have selected:
black/white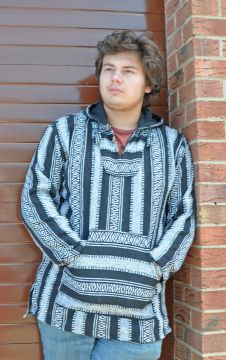 The most useful over jacket you will find anywhere.
Holidays, camping, beaches and barbecues. The places where it can be just a little bit chilly - throw on a warm layer.
Lightweight, open weave cotton material is transformed into an easy fit hoody. Choose from classic black/white neutral or add a little colour with our red/green option.
These hoodies will shrink approximately 1" (5cm) when washed. The following are garment measurements before washing, please order with this in mind!
| | | | | | | | |
| --- | --- | --- | --- | --- | --- | --- | --- |
| | CHEST | | | | | LENGTH | |
| | cm | in | | | | cm | in |
| M | 107 | 42 | | | | 72 | 28.5 |
| L | 112 | 44 | | | | 75 | 29.5 |
| XL | 117 | 46 | | | | 79 | 31 |
| XXL | 129 | 51 | | | | 83 | 32.5 |
| XXXL | 142 | 56 | | | | 86 | 34 |